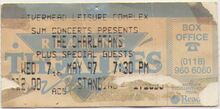 With No Shoes
North Country Boy
How High
Toothache
Here Comes A Soul Saver
Tellin' Stories
Just When You're Thinkin' Things Over
Just Lookin'
One To Another
Thank You
Weirdo
You're A Big Girl Now
Can't Get Out Of Bed
Crashin' In
Sproston Green
Bentley Rhythm Ace • Monaco
Peter Hook took exception to crowd chanting and refused to leave stage following Monaco set
Known Recordings Edit
AUD almost complete / ANA / 70 - 'You're A Big Girl Now' is cut due to taper error
THE INDEPENDENT 11 MAY 1997
It was a very young crowd that threw itself around at the Reading Rivermead on Wednesday, so young that a casual observer might have thought that the band on stage were the newest kids on the Britrock block. It's sometimes hard to believe, then, that the Charlatans have notched up five albums, three of which - even harder to believe - have been number ones. The latest is called Tellin' Stories (Beggars Banquet), and by now they should be able to live up to its name. Over the years since they shuffled onto the Madchester scene, they've seen one member suffer from depression, another leave the band, and Rob Collins, their organist, go to jail, having been caught up in an armed robbery. And then, last year, the jinx peaked: Collins was killed in a car accident.
But that's not the story told by their music. Whether the Charlatans turn away from their woes deliberately, or whether they're just incapable of sounding downbeat, their mood swings all the way from sunny ("Tellin' Stories") to jubilant ("One to Another"). These are songs of innocence, not experience, unless that experience is of one long, drunken, funky party.
Tim Burgess is the personification of this spirit. A twinkle-eyed, snub- nosed, wide-grinned urchin, he is always somewhere between a swagger and a stagger, and he drawls "North Country Boy" so cockily that one could almost imagine that the lyrics made sense. His enthusiasm stretches even to the tangle of coloured light bulbs that hangs above him, turning the stage into a Mediterranean harbour taverna. "Christmas lights ... every night," he slurs. It's his only comprehensible statement of the evening.
The Charlatans' bassist and guitarist leave the movement to their cagouled leader, but they play their unruly, Dylan-Stonesy swirl-rock with dizzying dynamism, as does Rob Collins's replacement, Tony Rodgers. It's only by jumping merrily from keyboard to keyboard that he gives himself away as not having been in the band since the beginning.
The trouble with this relentless positivity, and the prioritising of groove over tune, was that no single song offered anything that all that the others hadn't already provided, and the Charlatans came dangerously close to becoming the James Taylor Quartet with attitude. A band with their history should have more to communicate. Their facility for swatting away fortune's slings and arrows is their greatest weakness as well as their greatest strength.